Big Village offers a unique, educational and socially conscious way to fundraise for school groups and classrooms.
Our bracelet making program is a FUN, Educational and HANDS-ON experience that allows students to use our recycled glass beads to build bracelets that are suitable for men, women, and children.
We offer our beads, a bead making lesson, and a customizable workshop that will allow students to profit between $6-$8 per bracelet.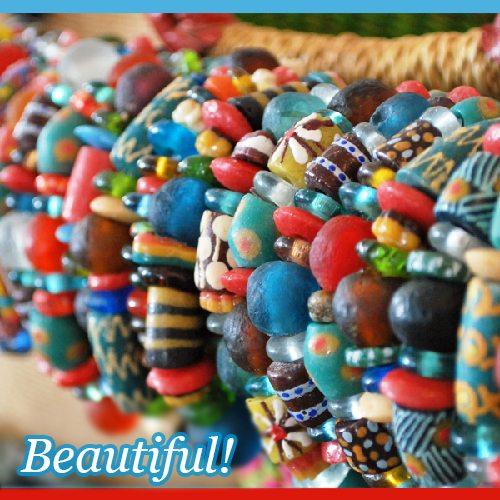 Students can create 5-10 bracelets which they can sell to friends and family, or fairs and school event sales.
Big Village will discuss the group's fundraiser goals, how to market your bracelets, fair trade, Ghanaian culture in relation to the beads and our bead making process with the group.  All materials presented are catered to different age groups. We bring with us a large selection of our beads and the necessary string and tools for each person to complete bracelets.  Depending on the age and number of participants and how many bracelets your group wants to make, the bracelet making part of the fundraiser can take 20-40 minutes.  We will help you determine how much time will be necessary to carry out the fundraising workshops.
Big Village can also bring its market to your school event. We will set up a market stall with beautiful handmade jewelry made out of our recycled glass beads, and a great selection of our ever popular Bogla Baskets and offer a percentage of sales back to your group. This program works well for school functions and events.