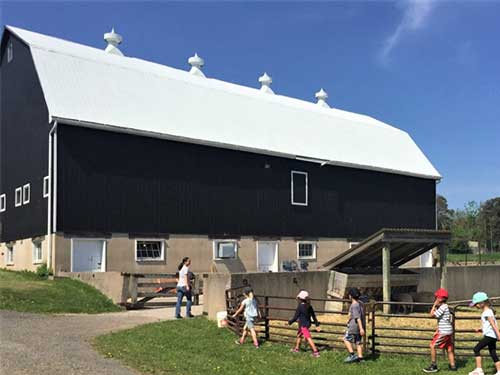 Kindergarten Programme Details
Mr. Rogers said, "Play is often talked about as if it were a serious relief from learning. But for children, play is serious learning." Play-based learning is important to the cognitive and emotional development of each child. Kindergarteners will come to our site and enjoy a mix and match experiential learning opportunity that is unique to each class.
Early Settler Experience Details
When Benjamin Freure arrived in Canada in 1836, he said, "The country here is beautiful, a rich soil, covered with timber, and well-watered, and all the inhabitants the most social and good-natured I ever met ". Students will learn how Canada has developed throughout the history of early settlers, such as Freure, and what resources may have elicited that change.
Arts in the Park  Details
When reflecting on what is art Lawren Harris said, " The truth is that works of art test the spectator much more than the spectator tests them ". During this programme, students will question and understand the subjectivity of art while also learning about various artistic mediums such as visual arts, drama, and dance.
How Farms Feed Us  Details
Food literacy is essential to building a promising tomorrow for our future generations. Connect with Ontario farms to better understand how farms provide us with food and essential products.
Habitats, Food Chains and Ecosystems Details
Albert Einstein said, "If there were no more bees, there would be no more pollination, no more plants, no more animals, and no more man". Learn about how healthy ecosystems are essential to the future of humanity through understanding aspects such as biodiversity, food chains, habitats, and environmental conditions.
Simple and Complex Machines  Details
Creativity and innovation have been and continues to be, the foundation to improving human life. Explore how innovation has led to the creation of simple and complex machines and understanding how these have contributed to the advancements in technology.
Sustainability  Details
Environmental protection and awareness is fundamental to maintaining a balanced ecology. Students will examine and brainstorm how environmental sustainability is an essential part of our personal growth and to becoming global citizens.
---
To Book Your Special Field Trip
Contact our education department by phone at 905-878-8151 or toll free 888-307-3276, or email us at
info@countryheritagepark.com