Family Math Nights are Here!  Call now to find a facilitator in your area!  Canada: 416-206-2396  United States: 347-704-0580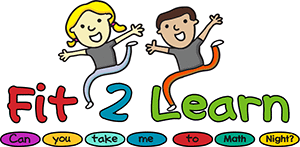 Combing Movement & Math Skills  in a Fun & Engaging Community Event 
Unbeatable Family Engagement 
A Family Math Night offers a great opportunity for elementary school communities to come together.  We offer an evening of fun that combines movement, games, and play with mathematical skill-building.  It is an event that is inclusive to all families with children from K all the way to grade 8, in record-breaking numbers.  Few events can compare to the draw that a Family Math Night can bring that includes such a range of ages! 
Get in on the FUN!
Fit2Learn is using the Jump2Math program games to reintroduce Family Math Nights to a whole new generation of students!
We will set up and oversee the running of up to 10 games and activities that can accommodate between 20 and 300 families over the course of an evening, as space permits.  These games include our most successful and popular games that are appropriate for a wide range of ages and abilities.
Details
A Family Math Night is a 90-minute event and costs $800 plus tax. 
A $200 non-refundable deposit will guarantee your preferred date.  The remaining balance is due on the day of the event.
We supply, set up, and oversee the running of all the games and materials needed for a successful evening of fun, learning, and engagement.
Includes up to 15 games, space permitting.
We leave your gymnasium neat and tidy!  Aside from the excited chatter the following day about the fun your students and families had, you won't know we were there!
Explore some More…
See a Family Math Night in action:  Math Night Video
Jump Into Learning
Kinesthetic STEM Events and in-classroom Learning
The Ultimate STEM event that MOVE and ENGAGE your JK-8 learners – Evening Family or School Day Events available