What is Aquaponics? What is POOtrient? Our school group workshops take a deeper dive into the science and technology of Urban Agriculture – specifically aquaponics. We don't stop there… we challenge students to understand the concepts of biomimicry, biology, ecology, closed-loop systems, circular economies, and so much more. We've found (local) food is an amazing medium to bring people from diverse backgrounds around the same table to learn and grow.Take your students on a field trip to Ripple Farms to learn more about these topics, and more!
Ripple Farms has brought Canada's First Urban Farming Unit to The Evergreen Brickworks in Toronto. In business, Ripple operates as a Social Enterprise and is dedicated to putting people before profits. Our mission is to provide customers with nutrient-rich, locally produced food. Our purpose is to reconnect urban populations with food by engaging people through hands-on workshops and educational material. Our aim is to tackle food security one meal at a time. With our systems, there is no longer a need to have produce shipped thousands of kilometres when we can produce it right here on Canadian soil.
School Field Trip (2 – 4 hours):
A field trip to Ripple Farms includes workshops designed for specific curriculum, takes place at the farm, and includes:

Tour of Evergreen Brick Works
Tour of Ripple Farms
An interactive detailed presentation on specific topics
Hands-on activities and learning stations
A takeaway
Educational content designed with specific curriculum links and learning outcomes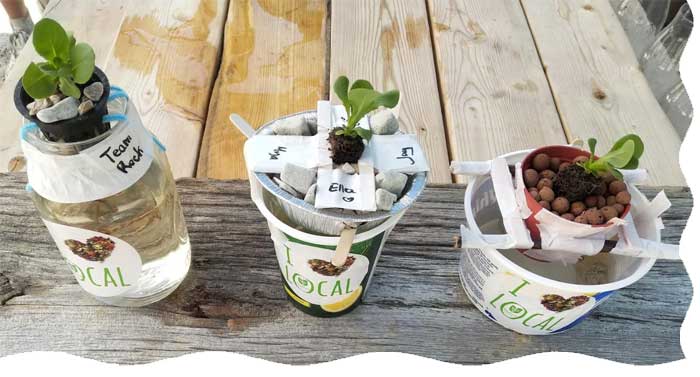 Evergreen Tour Learn about the history of Evergreen Brick Works, by exploring it's past as a brick factory and how it has evolved into a pilot for sustainable cities. Explore the reclaimed ecosystem around Evergreen and how it relates to the sustainable agricultural technologies used at Ripple Farms!
Ripple Farms Tour Dive deep into the world of urban agriculture by exploring Ripple Farms' indoor, vertical farm. Learn about our aquaponics and hydroponics systems by getting up close in our farm. Hands-on demonstrations and activities may include seeding, nutrient tests, soil and hydroponic media testing, and building a DIY Hydroponic system for the class! Content and demonstrations will be adjusted according to the grade and curriculum outcomes.